I have been getting a lot of emails asking me where I got certain pieces in the apartment along with questions about the bathroom and kitchen remodel. My landlord happens to be my Dad so I have a little more flexibility than most renters. I was the property manager for the apartment for the past 4 years, and last fall when there was a 1 month gap in-between tenants I went to him with a proposition. I knew the Mr. and I were going to move into the apartment after we got married so I told him instead of paying him rent for the first 3 or 4 months we lived there, I could put the money towards new cabinets and countertops for the kitchen, along with the bead board, sink, and mirror for the bathroom. Dad thought this was a great idea and gave me the green light to go ahead with the project. The chandelier in the dining room is ours so when we move out I am putting back up the Home Depot flower chandelier that you saw in the before pictures, and obviously I will take all my Antique Drapery Co. hardware with me. Other than that the rental will be the same when we leave, but here is the info on some of the items in our apartment.
Rug
: Natural Area Rugs.com- Coastal Seagrass.
Table
: Vintage pièce my Mom had since I was 10
Chairs
: Noir burlap & grey wash wood
Sideboard
:
$200 from a thrift store in Kensington
Map
: Missoula Mt map I got on eBay for $24,
the framing was a Christmas present from my Mom.
Lamp
: Inherited from my Grandma Lizzie.
Sofa
: Lee Industries 7059-11 Sofa
Wire Urns
: I think they are Aidan Gray but found them at a local shop.
Desk
: Pottery Barn, but I got it at a local consignment shop
Prints on either side of mirror
: Inherited from my Grandma Lizzie
White Hoof Table
: Arteriors
Geometric Wall Trellis
: I originally bought this thinking it would be a headboard
Coffee Table:
Was the Mr's Grandmothers coffee table 😉
Side tables
: Home Goods, found them 6 months apart from each other too!
Bedside Lamps
:
Home Goods
Bedroom Rug
:
Karastan Antelope rug.
Bed
:
Restoration Hardware. The last present I opened at my bridal shower was a note from my bridesmaids, friends and a few aunts saying I could call Restoration Hardware whenever I wanted to set up the delivery of our new bed. Best wedding gift ever. Thank you ladies!
Drapes:
I had my seamstress make 4 panels from one 130″long drapery panel I got on sale.
So there is all the info on my apartment, and on a happy side note, last Friday my other bamboo rod finally arrived!! I also swapped the living room drapes for the bedroom ones to switch things up.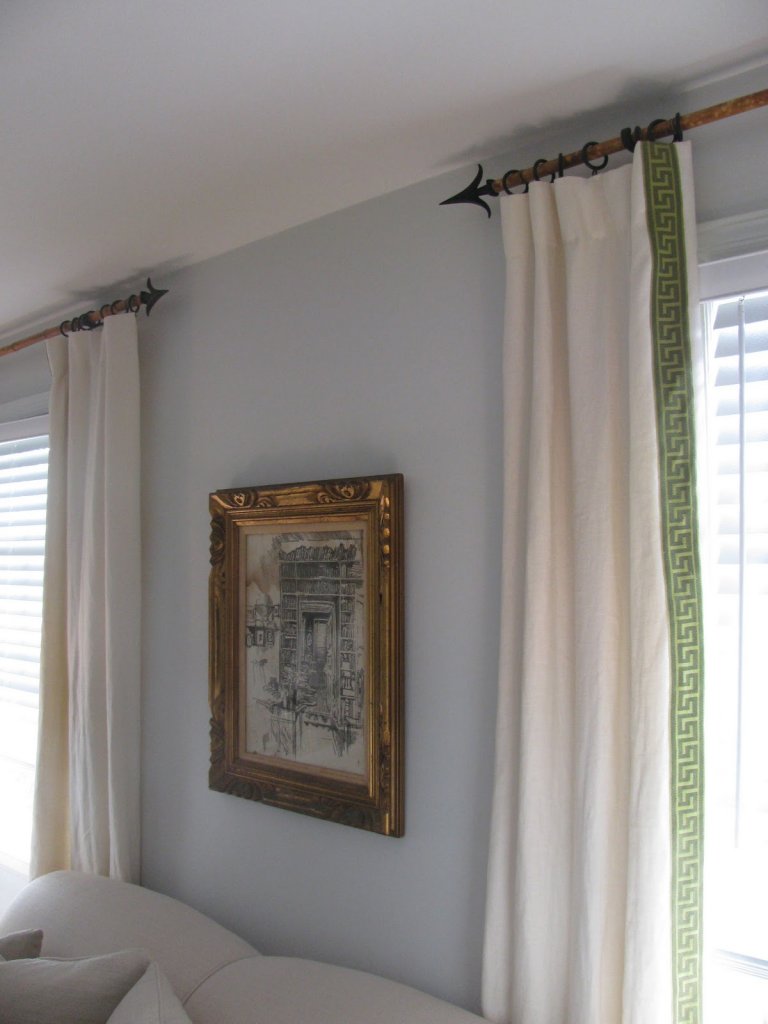 Yey for matching drapery hardware!
On a sad side note, a guest spilled red wine on our beautiful sofa over the weekend, and the Mr. spilled coffee on it yesterday. I don't know how Moms do it on a daily basis, but I pretty much went crazy. I tried everything- oxy clean, shout, white wine, vodka, salt, warm water, club soda, and I can still see the stain! We are having an upholstery cleaning company who specializes in stains come next Tuesday so I am praying they can fix it. When I called my Mom crying about the stains she said "Elizabeth, do you want to live in a museum or a live in a home? Things happen but no one died, get over it… now you see why I've had an ugly print on my sofa for the past 18 years" I am not exaggerating, that is exactly what she said. I love how she always puts things into perspective, yes everyone is healthy, the apartment is still beautiful, but seriously huge stains after having a sofa for 3 months!?! Has anyone successfully cleaned cinnamon coffee or red wine from a linen sofa?
By the way this is the red wine spot after I cleaned it…