This morning I popped out of bed like a 5 year old on Christmas morning, I haven't been this excited since my wedding day! Today in the Local Living section of the Washington Post they featured a house I worked on a few years ago that to this day is one of my favorite projects. You might recognize some of the images from my portfolio, or back when I blogged about
here
back in April. The tiny Chevy Chase bungalow was a challenge on so many levels. How do you fit 3 dogs, 4 cats, 2 kids and a Mom into a 1,500 square foot house and make it cheerful? Storage, storage storage. Organizing is one of the biggest design challenges so here are a few helpful tips to make your life easier.
1. If you don't have a separate Mud Room, baskets are a great way to neatly store shoes, dog leashes, and backpacks. When they are tucked under a pretty console it does not become an eye sore.
2. Use every inch of space in closets. Closet doors are a great place to store hair dryers, paper towels, sunglasses, chargers, and the obvious shoes. It's amazing what a hanging shoe organizer can hold.
3. I thought this idea was brilliant. Use a tension rod to hang cleaning supplies under your sink, leaving room for extra sponges, detergents and trash bags on the bottom shelf.
4. Create your own linen closet. Baskets and shelf dividers help maintain an organized closet. Regardless of whether or not you roll your towels or are perfect at folding sheets, this would work for any family.
5. Using small scale dressers as bedside tables increases bedroom storage.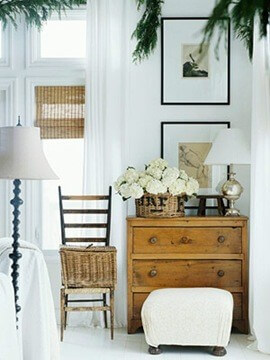 6. A trunk is great place to store games, toys, and extra blankets. Use a vintage trunk as your family room coffee table or have one half tucked under a console table for extra storage.
7. A pretty skirt can hide anything.
8. If there is any hallow empty space in the walls use it. Even if you can't afford custom built in drawers, open shelving in rafters or under staircases is a great place to tuck items away.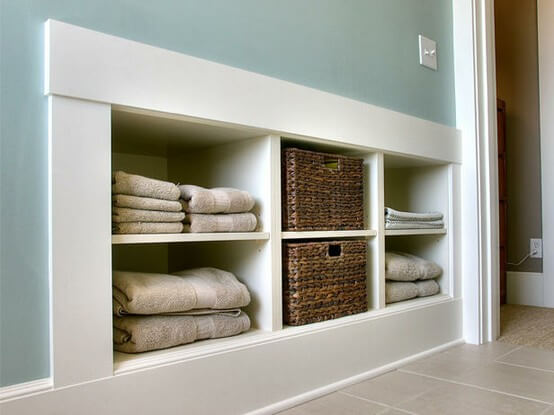 Tomorrow I will post all the lovely images from the article, but to read the online version visit the Washington Post Local Living Article
here
.