Lately Mom and I have been completely in the weeds. I am not complaining, being busy is way better than the alternative, but with all the work going on I have had absolutely no time for anything else. We are working on launching a new website which has taken my attention away from the blog, but I am going to try to get back into more frequent posts. For now here is an update on my dog bed dilemma! I had a Pottery Barn gift card that I forgot about left over from Christmas so I decided to spend it on our little man and I purchased this
bed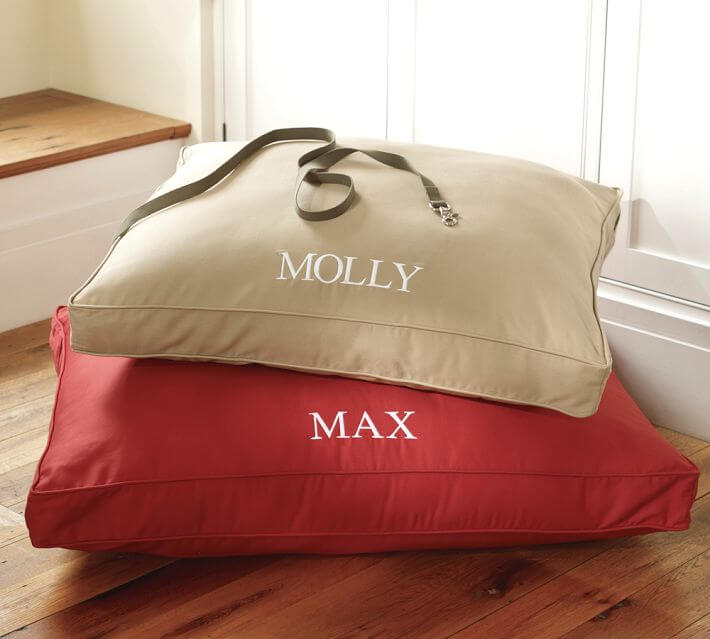 Since I don't
looove
the PB dog bed cover options I decided to have one made. I wanted to do the Schumacher Chenoncaue fabric but there is no way I am spending that kind of mullah on a dog bed, at least while he is still in puppy phase anyway… So I settled on the Imperial Trellis, cliché I know, but with so many knock offs out there I figured why not. I found the trellis knock off (is this even legal?) on Spoon Flower and chose to upgrade to the heavy cotton twill fabric so it would be more durable. That bumped up the cost to $32 per yard but still no where near the cost of ordering the real deal.
Long story short I think the bed turned out perfectly but I would have been disappointed if I was purchasing the fabric for anything other than a dog bed
.
Schumacher vs. Spoonflower
Clara did an amazing job at hiding the lines in the fabric with the piping.
In the end the only thing that matters is a happy puppy dog!