A few weeks ago I took four Pottery Barn drapes to my seamstress to sew a 22″ burlap band on the bottom for a little extra detail and to give them an overall finished length of 93″. I got them back on Friday and they are so fabulous! I have enough burlap left over for four more panels so I think I am going to have the same thing done to our bedroom drapes, which need to be hemmed at some point anyway because they are 96″ long. Plus someday if we have a house with a living room or family room with four windows, we will have matching drapes! Didn't she do a great job?
Henry's Room
Another apartment update- the new bench seat cushion that I ordered back in July arrived last week! The main reason I ordered the back up plan seat was not because of the stains which I have successfully gotten out, but because a few months ago one of my clients called to see if she could order a few yards of the fabric she has on her Lee Industries sofa. Her lovely labrador tore a hole through the fabric and cushion and she wanted to have a new cover made. Unfortunately they stopped making that pattern years ago, which got me thinking about our sofa. What if 8 years from now something happens to it and I had to pay to get it re-upholstered? I plan on having this sofa until our future children go off to college, and re-upholstering a sofa that size would be a fortune. I thought I might as well do it now while the fabric dye-lots match up, and I am so glad I did. Now I am not as paranoid when the Mr is drinking coffee, I plan on lifting the ban on red wine when we have guests over, and I think a certain someone is being more careful now in the living room… maybe it's because I said every time he spills I am going to order new covers 😉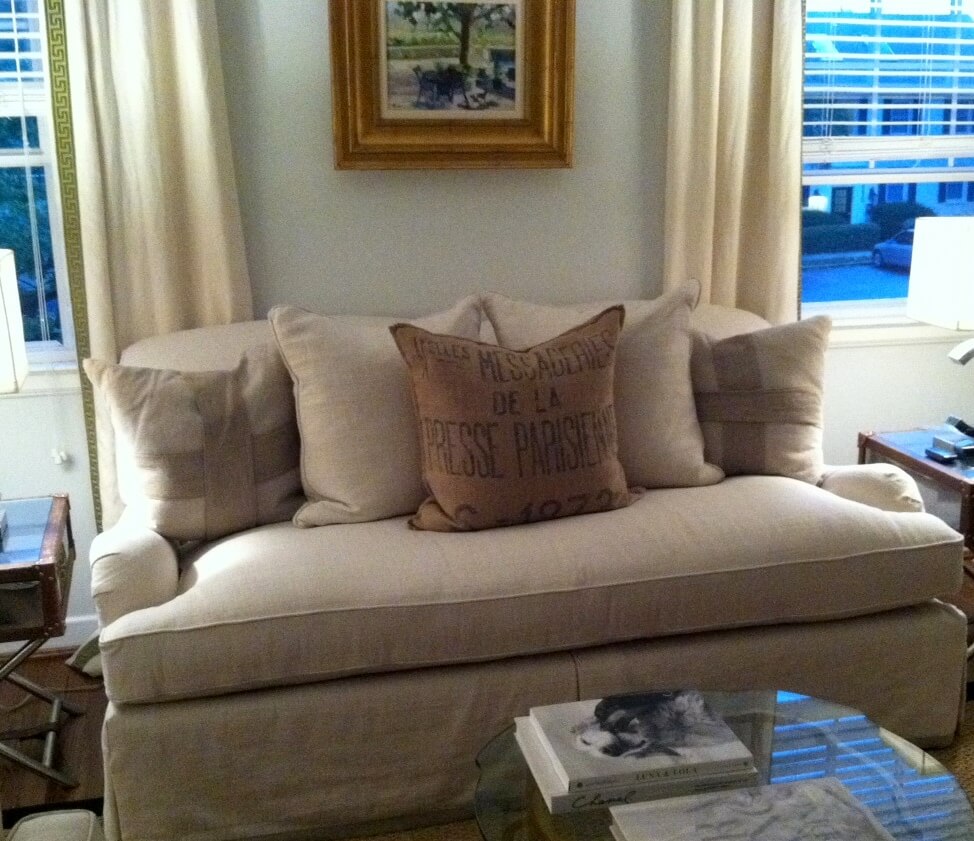 I changed the blog layout a bit over the weekend and the new look has been getting mixed reviews. I don't think it's that different form the old set up, and I thought with all the upgrades going on at home I would upgrade the blog too. Happy Monday!